Things to do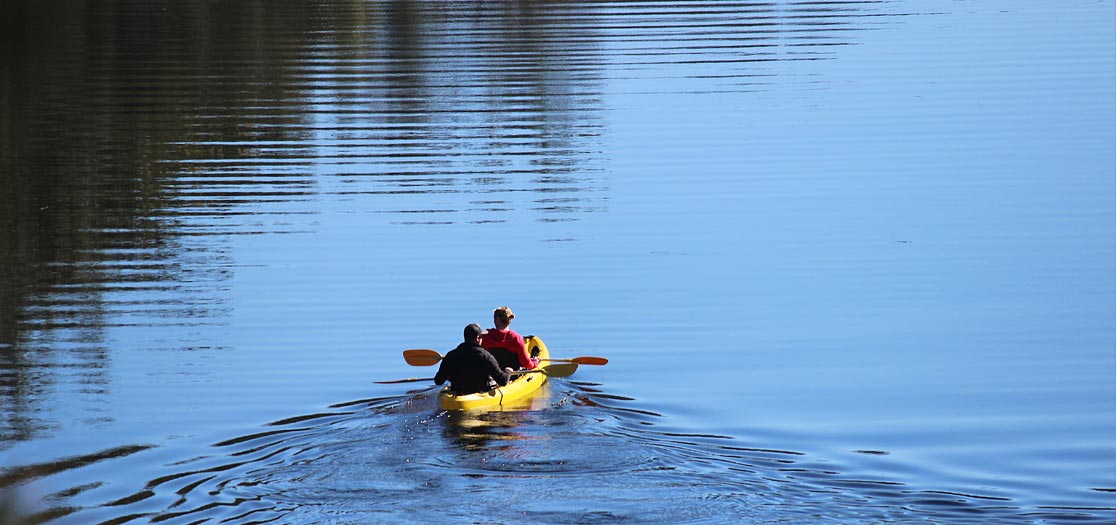 At The Escape, there's no shortage of things to do. Take a dip in the Clyde, explore the fabulous walking and riding tracks around The Escape or test out our day beds and indulge in an afternoon's reading and relaxation!
ON SITE
There's no need to travel far to engage in some fun activities. Stay at The Escape & make your choice from bocce, bushwalking, bush picnics, kayaking, fishing, mountain biking, swimming and bird watching. Some of The Escape's tried and tested favourites;
Kayaking – we think you'd be hard pressed to find a better way to appreciate a unique and quintessentially Australian bush setting, than sitting atop one of the single or double Escape kayaks and floating along the Clyde River. Up stream or down, we'll let you know which way the tide's flowing and the rest is up to you! For added adventure, Region X – an award winning marine park kayak tour operator – offers guided tours of the Clyde River – an excellent way to spend a morning and learn about this truly world class waterway! From guided ocean sea kayak tours, family friendly glass bottom kayak tours, mangrove floats and oyster tastings – visit www.regionx.com.au to find out more.
Fishing – bring your rod, drop a line in and spend an afternoon relaxing with the bream and flathead who live and breed in the Clyde's clear waters. One of the Eastern seaboard's cleanest rivers and with the river at the front of The Escape classified as part of the Batemans Bay Marine Park, she's truly a special river for all to enjoy.
Swimming – a warm weather must-do, the temperate waters of The Clyde are the best place to be when the Spring and Summer heat kicks in! Cool down, splash around and just chill out in one of the most spectacular waterways on the Eastern seaboard. It really doesn't get much better..
Bird watching – you won't need to use the on site binoculars to catch a glimpse of the sea eagles that regularly fly along the top of the Clyde, but keep them handy to see the black swans and their baby cygnets which live and breed around Shallow Crossing. Borrow the Australian Bird Watching book from The Escape's book selection and see how many species you can spot!
OFF SITE
You don't have to go far to start exploring a wonderful diversity of South Coast offerings. High energy or low energy – take your pick from beach visits, bushwalking, Clyde River Berry Farm, horse riding, surfing, discovery tours, shopping or local winery visits. We highly recommend;
Bushwalking – The South Coast is renowned for its natural assets and a half day walk to the top and back at Pigeon House Mountain won't disappoint. Let us know if bush walking is your thing when booking your Escape and we can pack you a gourmet lunch backpack to go, to help make your trek a truly memorable one!
Clyde River Berry Farm – a December/January must-do is to visit the U-Pick Berry Farm, located a short 5 minute drive from The Escape. It's just about impossible to leave without a big blueberry grin after you indulge the fruits of your own picking or devour one of the famous, handmade berry ice-creams from the on site shop!
Bawley Point, Pebbly Beach and local beach visits – the unique South Coast combination of bush and beach means you can hang ten at some of our best and uncrowded beaches in the morning then be back for a dip in the Clyde River that afternoon! There is simply no end of choice of great beach spots to swim, play and surf – all within a short drive of The Escape.
Horse riding – a favourite for Family Escapes, Timbertops Horse Riding is a short 30 minute drive from The Escape and caters for beginners right up to more skilled riders. Take one of The Escape's gourmet lunch packs to go and make a day trip with horse riding, a beach visit and game of i-spy as you cruise the forestry tracks spotting kangaroos, wallabies and even the resident wombats who make the forest their home!